Brochures
Hot off the press!
Our new 2016 Brochures are now available. To download a copy of the brochures click the links below: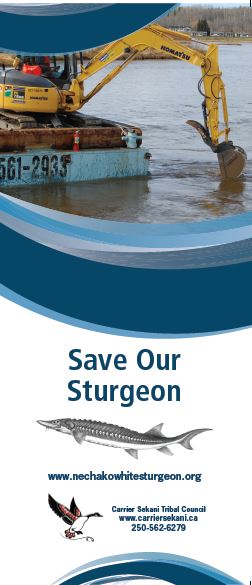 General Outreach Brochure - provides information about the various projects currently underway to help recover the Nechako White Sturgeon, from habitat enhancement to monitoring sturgeon throughout their life cycle.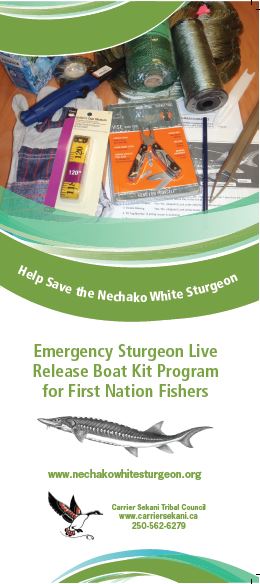 Emergency Live Release Boat Kit Program Brochure - provides information about the Live Release Boat Kit Program available to First Nation fishers. Live release boat kits are an important tool to reduce the mortality of sturgeon accidentally caught in other fisheries.
First Nations Brochure - The Carrier Sekani Tribal Council (CSTC) and the NWSRI are teaming up to save the sturgeon. This brochure encourages First Nations to get involved and contribute to Nechako white sturgeon recovery.
We thank the Habitat Stewardship Program (2015/16) for their support to make these brochures available!
Past brochures:
(1) The Nechako White Sturgeon Recovery Initiative published a brochure that is available in print from our offices and as a PDF document for download - NWSRI Brochure.
(2)  In 2010 the Carrier Sekani Tribal Council and NWSRI produced of a First Nation targeted brochure that includes Dakelh (Carrier First Nation language).  This brochure was distributed during the 2011-2015 salmon fishery because this fishery is known to result in the by-catch of mature, breeding sturgeon.  Reducing anthropogenic harm and mortality is identified as a Priority 1 Activity: Reducing by-capture, harm and mortality of individuals of the endangered population (Draft Recovery Plan).   This brochure is available from CSTC or you can download a copy of it here – Reducing Sturgeon By-Catch Brochure 
If you do not already have Adobe Reader (aka Acrobat Reader), Get Adobe Reader now! It's a free plugin available from Adobe.com.