2008 Save Our Sturgeon Juvenile Release - Another Success!
This year, on October 1st and 2nd, the Nechako White Sturgeon Recovery Initiative (NWSRI) celebrated its third annual Save Our Sturgeon Juvenile Release with the help of just over 900 local schoolchildren from School District 91. As in previous years, kids each released a 4 month old juvenile white sturgeon into the Nechako River as part of the NWSRI's continuing effort to help restore endangered white sturgeon stocks.
Using eggs harvested from adult white sturgeon captured on the Nechako in the spring of 2008, the program raised 6,000 juvenile white sturgeon which will be released into the Nechako by the beginning of October. All released fish will be marked with PIT tags so that if and when they are captured in the future, team members will be able to measure and assess growth and condition.
Special thanks once again to The District of Vanderhoof, the Freshwater Fisheries Society, Tl'azt'en Nation, the Fraser Basin Council, the Carrier Sekani Tribal Council, Resources North, Erin Kearns, Christina Ciesielki and all the numerous volunteers for their help with the juvenile release.
Christina Ciesielki and Brian Frenkle from the CWG describing what the NWSRI is all about.
Another CWG member, Roy Argue, answering questions about white sturgeon.
Kids getting a hands on experience with juvenile sturgeon in a portable trough. The hats were great!
Luckily their scutes aren't sharp at this age...
Tribal Chief David Luggi making a welcoming address to students and visitors.
Taking some time to name their sturgeon...
Letting the little one go into the big river!
And another one!
The FFSBC truck transporting juvenile white sturgeon to the release site.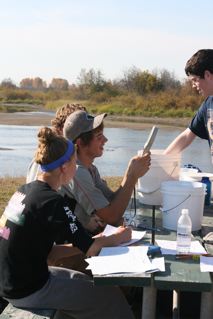 High school biology students helped record PIT tag numbers for every fish.
Neil Jantz from FFSBC describing the early life cycle of white sturgeon outside the mobile fish conservation aquaculture facility.
Life doesn't get much better than releasing a juvenile white sturgeon on a beautiful fall day.